THANK YOU to the Dr. Bronner's for sponsoring NOW, A Video Art Ritual, a collaboration with John Sanborn opening, February 8th, 2018 from 6-8p.m. at SF Camerawork 1011 Market St. 2nd Floor San Francisco, CA. NOW runs through April 7th.


Thank you to The Phyllis C. Wattis Foundation for awarding a grant for the production of NOW, A Video Art Ritual and to SF Camerawork for assisting with the process!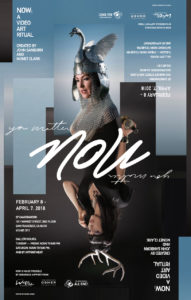 Thanks to the Bernard Osher Foundation for bestowing upon John Sanborn and my project NOW, A Video Art Ritual a grant towards production costs and SF Cameraworks for their assistance.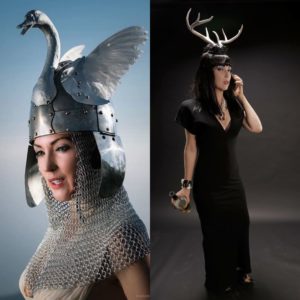 Culver City Film Festival is screening BUNNY GIRL
December 7th, 2017 12: noon, Culver City Film Festival
BUNNY GIRL screening and Q & A
Cinemark 18 & XD
6081 Center Drive
Los Angeles, CA 90045
Tickets single screening $15. (scroll down to find BUNNY GIRL) https://www.eventbrite.com/e/4th-annual-culver-city-film-festival-tickets-40019214548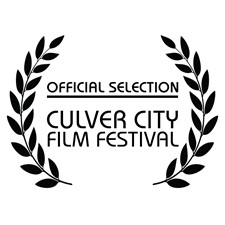 We are in the final editing mode for "NOW" A Video Art Ritual & many things are on my mind including the relationship between the feminine (which lies in each of us male, female, they) & each of these: the non-visible world; indigenous perspectives in the Americans pre-colonialism; prophecy; ceremony; modern day intention; pre-burning times female led healing traditions in Europe; the vibratory perspective of the world according to Eastern mystics & physics; internal personal processes; intuition; the respect for animals as sentient; Holistic theory & Environmentalism & how these all relate to contemporary feminism. "NOW" is a 10 screen audience participatory performance/video ritual, opening at SFC 2/8/18 6pm-8pm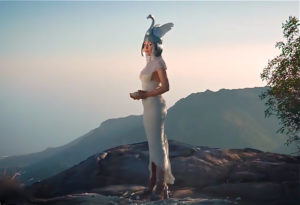 FANTASTIC ARCADE, Austin TX
Just got back from Austin, TX for 2017's Fantastic Arcade the nexus between video games and art, where 30 juried presenters from all over the world were chosen to exhibit their works. This included Jared Johnson and his poetic, visually stunning Love Is Moving, for which my 'museness' was utilized. I also got to show Bunny Girl at the after party. I was pleasantly surprised by the conceptualism and depth of the games discussed in the presentations. We had a blast.
Review, Convulsive Stripper, 1992
I don't know where they got ahold of a copy of this old compilation distributed by artcom, but from the site letterboxd here is a user's review:
"…Monet Clark's profound piece "Convulsive Stripper", is astonishing in its knowledge of perversion with loneliness and features a strip tease with the stripper going into mini-seizures. That one in itself would be rated **** 1/2″   https://letterboxd.com/film/art-com-14-rebel-girls/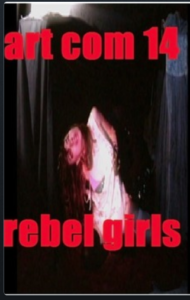 BECAUSE WE NEED (S)HEROS MORE THAN EVER…
BUNNY GIRL has been selected by Filmchella and received and honorable mention by LA Underground Film Forum 201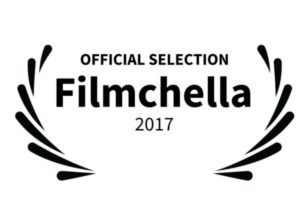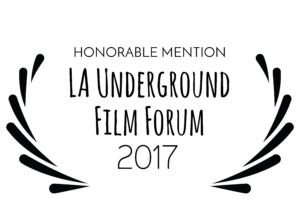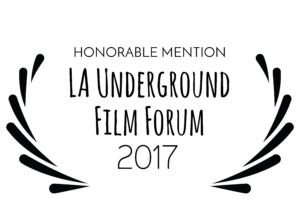 I'm very excited to announce that BUNNY GIRL has been selected by the wonderful Bideodromo Festival 2017, in Bilbao, Spain!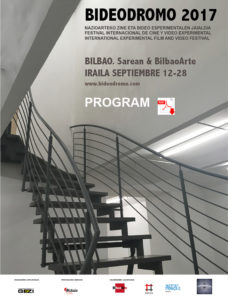 Timeline article about On Our Backs magazine
I'm proud to have been part of this revolutionary magazine in the early 90's having had two multi-image pictorials published within its pages. Modern women's sexual expression is exploited & co-opted by advertising & marketing packaged for the male gaze. This leaves a void in authentic female sexuality. Then, in a rejection of the proliferation of this male skewed sexual imagery, the intelligencia often criticizes women who claim their own sexuality, be it for their own pleasure, consumption or intellect, and who use it in their work etc. On Our Backs went against the grain and depicted sexual imagery of women, for female consumption, lesbian female consumption, authentic and original. The idea of making sexually explicit imagery to be consumed by women and created for the female gaze, was and still is unbelievable radical. Suzie Bright, had the ovaries to create this venue. Yah this is the sh*t. xoxooxox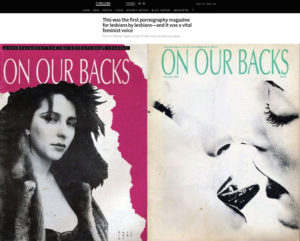 We've launched our Indiegogo campaign for "NOW", A Video Art Ritual!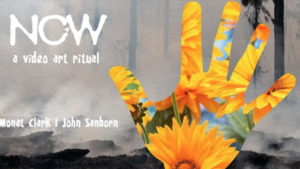 WITH YOUR HELP this collaborative work NOW, A Video Art Ritual, a collaboration with media art pioneer John Sanborn, will debut February 8th and run through April, 7th, 2018 at SF Camerawork. "NOW" is guided by two hilarious opposing (s)heros: the sarcastic rage filled, haute goth Catharsis and the vamp, valkyrie yogini Perspicacious. Within 10 screens, including a projection on water, they explore the nexus between technology and ritual by inviting the audience's participation. These contrasting protagonists cast a mystical space in an urban gallery, and wittily survey contemporary and historical pitfalls, while bringing the audience into the present now moment. "NOW" examines cultural appropriation and evolution; global warming; punk rock ideology; and spiritual philosophy. It reveals an emerging scientifically based, melting pot mysticism, and promotes the individual-micro/global-macro connection where "you matter now".https://www.indiegogo.com/projects/now-a-video-art-ritual/x/15605357#/
I contributed an essay/performance for still camera piece for DYNAMISM, curated by Liz Walsh,
THE CASUALTIES OF CAPITALISM'S COMMERCE OF TOXIC SUBSTANCES/OPUS EXTERNUS DOMICILIUM.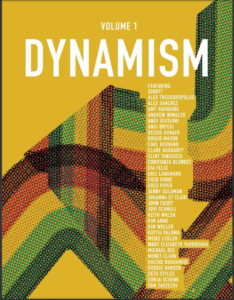 From NYC art magazine HYPERALLERGIC: A PLAYBOY BUNNY NAVIGATES THE POLITICS OF DYSTOPIA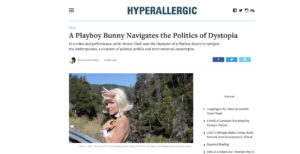 After this article was published I posted the following comment in response to the writer of this article's, main argument which hinged on an incorrect assumption about my race.  Nevertheless the piece offers interesting points.
"As the artist who made BUNNY GIRL & as a women who is mixed race & comes from a long line of not white & mixed race women, I wish the writer of this piece had done her research on me, before calling me out in regards to "white feminism". Having tried to make sense of the traumas to myself and to my family lineage due to racism, through education in the liberal PC environment of Bay Area academia starting 30 yrs ago where I focused on Women's Studies, I know the arguments presented in this piece all too well and my family has lived them. Thusly I am deeply offended by the main argument in this article. I thank Hyperallergic & the writer for seeing my piece fit for publishing a piece on, I am very grateful. However I just wish that if the writer wanted to make a piece on "white feminism" she would have used my unique vantage point as a mixed raced feminist in the argument instead of assuming I'm white, because I'm white passing. The pitfalls of our current super hyper PC culture is this tendency to cast stones at our own, eating them up till I'm concerned there will be nothing left. The irony is that my video comments on the deteriorating state of our shared biosphere and how the feminine is needed to rise in order to save us all, black, white, red, brown, yellow, fur covered and green (plants). We are all in this together."

The 6th annual Rapid Pulse International Performance Art Festival in Chicago, has asked me back for its Retrospect themed festival this year. They will screen performance/video piece MUSE in the main gallery for the duration of the festival June 1st-4th 2017

French art magazine CORRIDOR ELEPHANT, announces the AVIFF Art Film Festival in Cannes, France with BUNNY GIRL image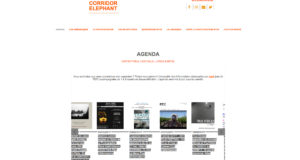 The CASUALTIES of CAPITALISM'S COMMERCE of TOXIC SUBSTANCES
Context and politics behind some of my work…The full essay can be found with these pieces: Performance with Toxic Tee Pee (2007),
Pretend We're Dead (2007) and OPUS EXTERNUS DOMICILIUM (2017)
"Clark's Pirate Island Performance Series deliver us squarely into the dystopian reality of the 'canary in the coal mine' phenomenon, which people with Environmental Illness experience. These works depict living on the fringes of a society in denial about the increasing toxicity of the world. Along with Clark's Poisoning/Phoenix Performance Documents series, and BUNNY GIRL, this series confronts the politics which sweep toxic contamination under the rug. They expose us to the casualties of capitalism's commerce of toxic substances, the people (and animals, in BUNNY GIRL), which are treated as expendable to market gains…. "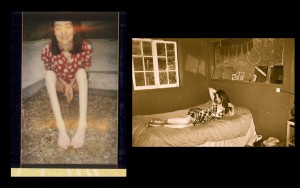 From November's Tasmanian Eco Film Fest…
I just checked into Instagram & found this from the curator, & a post from an audience member who called BUNNY GIRL 'thought provoking'. 😉
AVIFF Cannes Art Film Festival has selected the BUNNY GIRL trailer to promote its offerings for this years 2017 event.
BUNNY GIRL is an official selection for the festival. For more information click: http://art-film-festival.com/aviff-2017/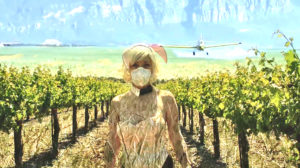 My collaborator for the PRETTY REVOLUTIONARY pieces, artist Karen Fiorito, is stirring up tremendous dialogue with her recent installation of this doubled sided billboard in Phoenix, Arizona. Patriotism involves utilizing, and fighting for our constitutional rights.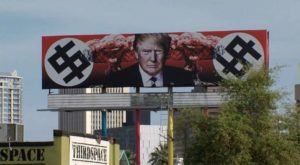 Installed on 3/17/17, she has since interviewed for FOX News, CBS News, and NBC News, and interviewed for print by the Washington Post and more. The story has been covered by many news organizations including Reuters, AOL.COM, USA Today, News Sky.com, the UK's Daily Mail, Arizona's 12 News, AZ Central.com, Art Forum, Art News, The Hill and more.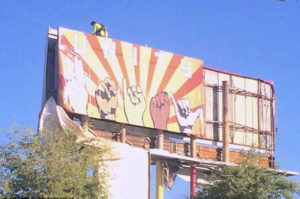 BUNNY GIRL has been selected at AVIFF Cannes's 2017 festival in May 20th-21st, the same week as "the" Cannes Film Festival.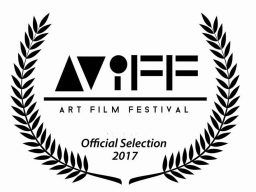 Here Comes Everybody, a cable TV video art show, will screen performance/video piece MUSE in Los Angeles April 4 12:30 a.m.
Channel 36 for Time Warner subscribers
Channel 99 for AT&T subscribers
(curated by Bill Turk)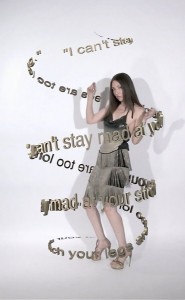 I can die happy now, my performance in BUNNY GIRL has been likened to one of my favorite performances and scenes of all time: The Radiator Girl in David Lynch's Eraserhead.
The article will be posted a month after it has come out hardcopy, so should be sometime in March '17.
Out now, full feature "Dangerous Dakini: Monet Clark's Bunny Girl and Other Precarious Performance Videos" for AFTERIMAGE magazine vol. 44 #4 (February 2017), an important voice in media arts for over 40 years. The article is written by Jillian St. Jacques who went deep, conducting several thorough interviews and viewings. Their articles are posted online a month or so after the physical copy comes out.

"…Clark's healing rituals stand in a class of their own…"
"[Cross Voyeusim is] a feminist counterattack."
"Performance art often cultivates risk to draw its audience into the collective empathy/concern for the precarious position of its maker
and in this regard Bunny Girl is no exception."
 "In the performance/video DAKINI (2011)…her ritualistic gestures place her in a place of vulnerability once more….because she is dealing in spirituality, that most conflicted of stances, regarded with skepticism in artistic and intellectual circles…As I have argued, an aesthetic of risk runs high throughout Clark's oeuvre, and, when combined with acts of spiritualism, her pieces become a sort of spiritual wager, acts of faith that testify to the potential  of unverifiable powers to alter or shift our rational, visible, material order…." 
"…some of her most riveting early works…Poisoning/Phoenix features the artist as our gentle guide into the world of the abject discourse."
"…there is more to Bunny Girl's story than a surreal character in an arbitrary landscape… [with] the flanking element of danger implicit in every frame…namely, her relationship to the dystopic events in the found footage… The more I look at Bunny Girl the more I am struck by the character's resilience. She may look vulnerable…but I realize Bunny Girl is stronger than me… Bunny Girl and I stand in discourse [at] the turnstile of abjection where the disavowed Other, who has been positioned as somehow lesser, weaker, repellant, rotates the gaze of the Otherizer back on itself, insinuating through its enigmatic return glance that the objectifier is, in fact, in danger of being alienated by the cultural symbolic."
"There is something heroic about Bunny Girl [and] …something that reminds me of the lady in the radiator in David Lynch's Eraserhead."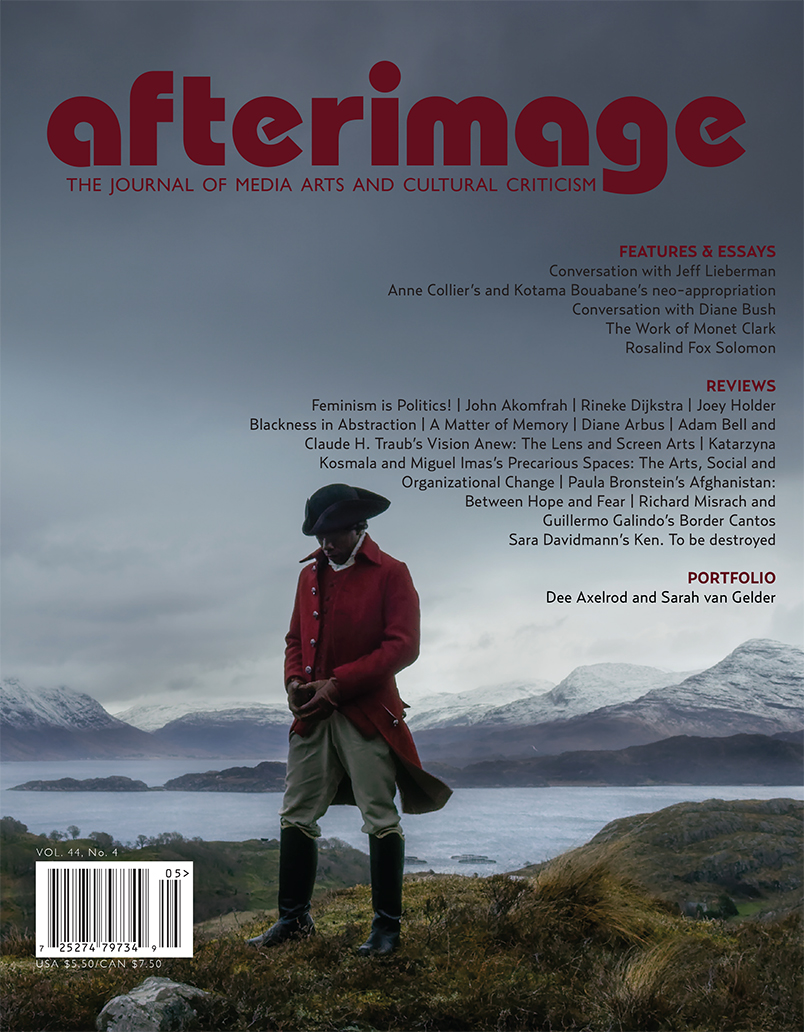 As I said in my recent piece for Artists and Climate Change (below)
"…our hope for the future lies within the rising of the feminine."
WOMEN'S PROTEST ACROSS AMERICA JANUARY 21, 2017 WERE THE LARGEST PROTEST IN AMERICAN HISTORY,
with SISTER PROTESTS GLOBALLY ON EVERY CONTINENT.
My photographs from the California State Capitol:
and photographs courtesy of my friend Becky Boise in Los Angeles…
Here Comes Everybody, a cable TV video art show, will screen performance/video piece MUSE in Portland,
1/22/17 at 11 p.m. on cable channel 29
(curated by Bill Turk)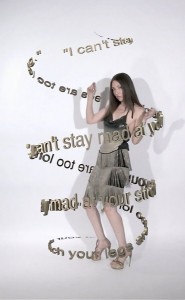 ARTISTS & CLIMATE CHANGE, PERFORMANCE, VIDEO & RITUAL IN THE ERA OF CLIMATE CHANGE
guest blogger Monet Clark with news about new works in process and more….
"…our hope for the future lies within the rising of the feminine."
'BUNNY GIRL' has been selected by HOLLYWOOD SCREENINGS FILM FEST as a semi-finalist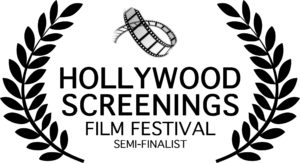 Images from Clark's performance PHOENIX, which was created for the Rise of the Phoenix event for artist and mystic Penny Slinger's birthday, at her GODDESS TEMPLE in the Santa Cruz mountains, November, 2016.
As an offering to the temple & the night, Clark prepared a Phoenix themed flower essence vibrational remedy, from the pharmacopeia at Olala Farms in Nevada City. She ritually adorned the lotus seat & herself to perform death/rebirth, rising from the ashes themed psychic readings and to administer the flower essence remedy. This supported individual's internal processes, complimenting the rituals being performed in the main hall. This included Slinger's Phoenix ritual (pictured in the last row below) where the entire gathering burned intentions for death and rebirth in the temple hearth…
Walking the red carpet with Jared Johnson, visual effects editor on BUNNY GIRL,  for The Other VENICE FILM FESTIVAL, Venice, CA 10/16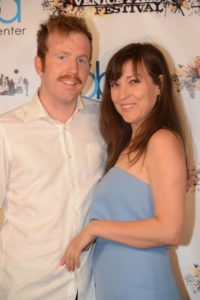 The Other VENICE FILM FESTIVAL in Venice, CA has selected BUNNY GIRL and official selection for this year's festival!
It will be screening in the Experimental Short Film Block October 8th 3:30-430 Beyond Baroque 681 Venice Blvd Ca 90291 For tickets:
https://www.eventbrite.com/e/other-venice-film-festival-general-admission-tickets-27097558527
Promo video for RETHink Art Digital International Festival
and install shots of BUNNY GIRL
House of Culture, Rethymno, Crete, Greece 9/12 – 9/16/16
BUNNY GIRL will be exhibited in Rethymno, Greece on Crete, September 12th-16th, 2016,
as part of the RETHink Art Digital International Festival, at The House of Culture.
BUNNY GIRL will screen at the the 14th annual Cine Pobre film festival October 17th-20, Miguel Aleman 78, La Paz, Mexico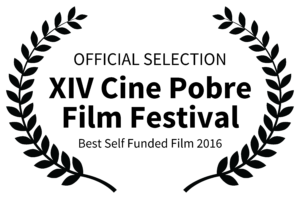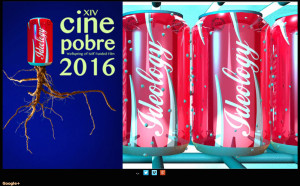 The TASMANIAN ECO FILM FEST has selected BUNNY GIRL for its 2016 festival.
It will be screened opening might, November 17th, 2016, in Hobart, Tasmania, Australia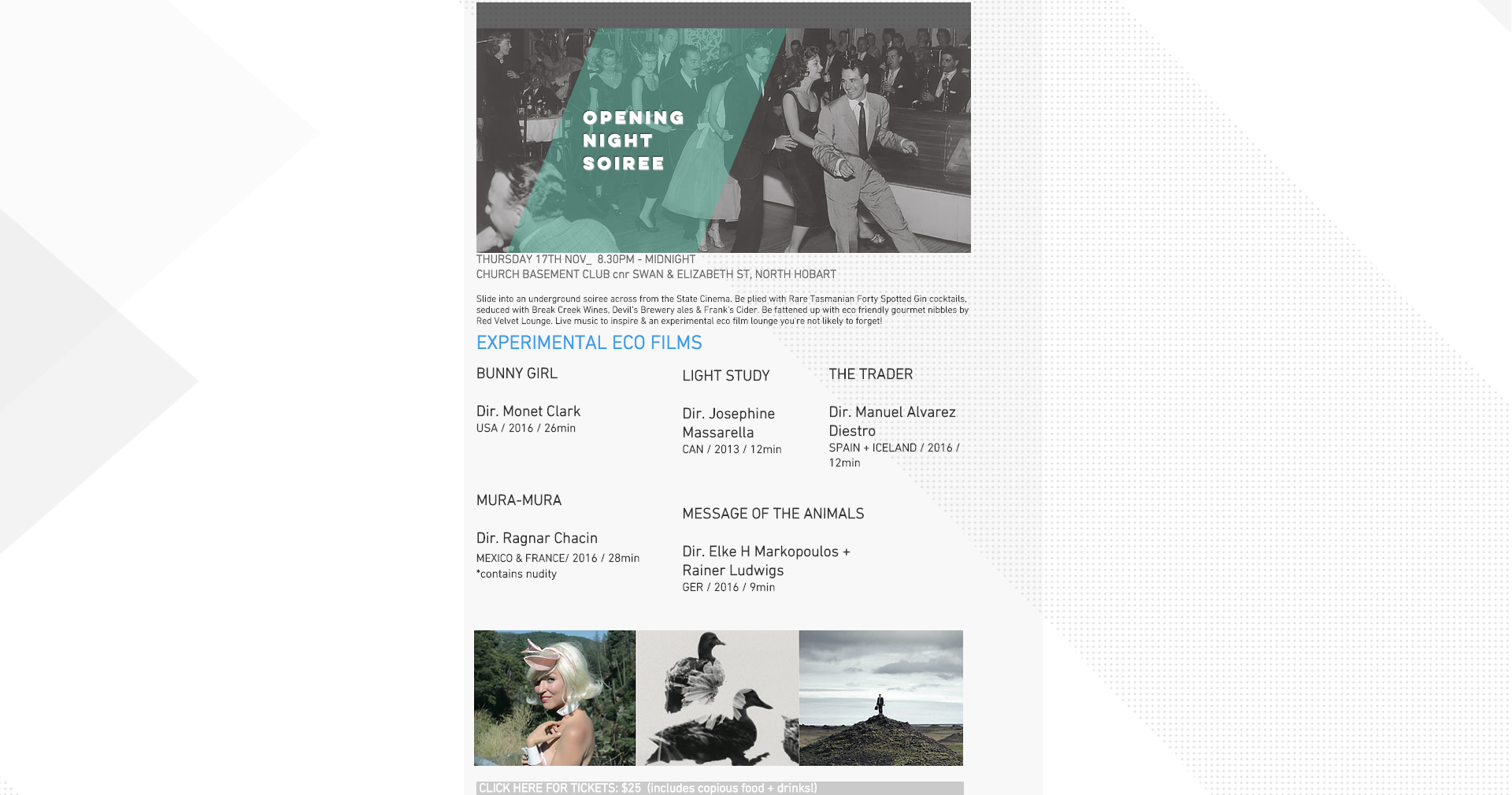 SHORT and to the POINT in Bucharest, Romania will be screening BUNNY GIRL in September location TBA
BUNNY GIRL has been accepted for Sila Festival, an International Eco Film Festival, September 2nd-5th, 2016, in San Pietro Magisano, Italy
The festival has a Focus on the Environment, Sustainability, and the Region's Historical Customs, Dress and Relationship to the Land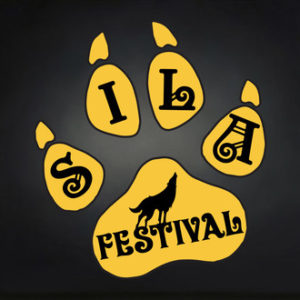 Still from the protestors segment of BUNNY GIRL…I learned from the years of being so ill that I couldn't lift my arms & legs, a dichotomy: to face the hard truth in the moment while still believing in positive possibilities to come & not getting jaded by the horrors of life. Our thoughts & beliefs assist in creating the future. We all need to remember what is possible & know with confidence that we will reform these racist corrupt systems, just like I rebuilt my body back from near death. We are powerful & it starts with "I have a dream" & not buying into the ugliness…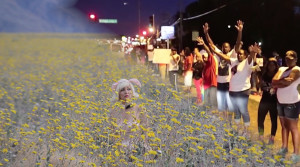 The BUNNY GIRL POSTER is complete…
"Bunny Girl is a rock solid performative piece that sets out to interlace…feminist issues and environmental activism"–Stretcher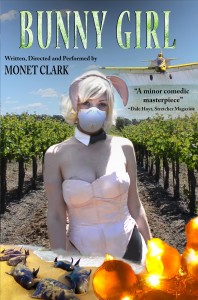 THE INTUITIVE FEMINIST live performance, installations shots of the Performances In Nature photographic series and BUNNY GIRL the movie,
at Krowswork Gallery, Oakland June 3rd, 2016
Monet will be performing live: The INTUITIVE FEMINIST on 6/3, for First Friday, at Krowswork Gallery in Oakland 7-8pm.
Also screening: BUNNY GIRL + the whole FATES exhibition from 5-9pm. Last day to view the show is 6/4  1-5pm.
Using classic Feminist texts for bibliomancy, Monet will divinate for each individual who participates in the performance. Drawing on her role in THE FATES residency as THE CUTTER, for each individual she'll be instigating the death of an old paradigm and its corresponding taboos, and the beginning of the the new. Applying her skills of intuition she'll expound on each person's unique divined message, with a focus on internalized sexism. Each reading will follow with a healing to balance their male/female aspects, utilizing a flower essence vibrational remedy she's prepared specifically for the performance.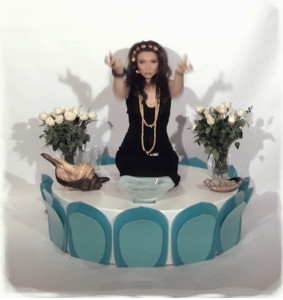 STRETCHER MAGAZINE, FEATURE: Conversations A Bunny Thing Happened A Conversation with Monet Clark –by Dale Hoyt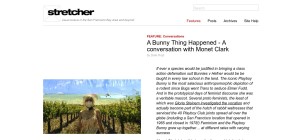 BUNNY GIRL is screening from 1-5pm at Krowswork Gallery every Saturday through 6/4/16; and on 6/3, from 5-9pm for First Friday's art walk; or by appointment (click contact to schedule).
Running time 28 min 50 sec: Driven by the crises state of our eco-systems and social unrest, the title character Bunny Girl combines an eroticized Playboy "bunny" with the animal of the same name and traverses landscapes that point to our dystopian present. With wry humor Bunny Girl ties the mentality which destroys our wild places without conscience,  which marginalizes and threatens women and indigenous people, and which disregards human and animal suffering, to the suppression of the feminine. This work maps a range of bodily and spiritual awarenesses that women both suffer from and thrive under in an evolving earth consciousness, that nonetheless is blossoming in the face of attack.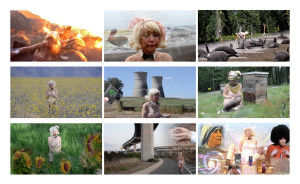 V. VALE's RE/SEARCH NEWSLETTER #150, MAY 2016 WIRED Magazine & researchpubs.com announces The FATES exhibition in FORTHCOMING EVENTS
Free Fri. May 6th, 5-9pm Krowswork, 480 23rd St (Side Door), Oakland 94612 hosts THE FATES: Nicole Shaffer, Kally Williams, Monet Clark. krowswork.com/thefates.html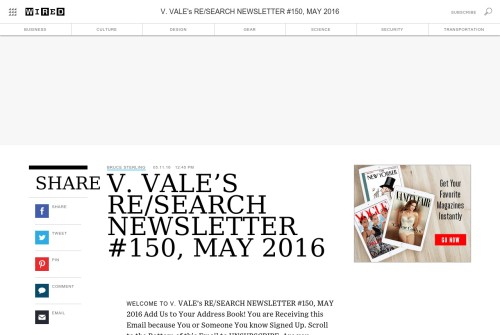 BUNNY GIRL a performance/video film will debut 5/6/16 for First Friday, at The Fates Residency, Krowswork Gallery!
"For her residency, Monet has immersed herself in the completion of her latest video work, Bunny Girl. This piece follows in the spirit of her previous performance vignettes that take a wry and wide view of women's self image whilst they navigate social stereotypes. Bunny Girl, however, is an experimental narrative in which Monet's character performs in sweeping landscapes, driven by the crises state of our planet's eco-systems and social unrest. Bunny Girl conflates an eroticized Playboy "bunny" with the animal of the same name, tying in the link between environmental degradation and the suppression of the feminine. This work maps a range of bodily and spiritual awareness that women both suffer and thrive under, in an evolving earth consciousness that nonetheless is blossoming in the face of attack." –Krowswork Gallery
"Any real quest for enlightenment is a dark and dirty business full of suffering as you unbind layers, that lighten you up as you go.
The yin and the yang are parts of the same whole. And to me EVERYTHING is spiritual and life in all its dimensions is a constant practice.
I've walked this edge in my work and my life for a long time." – MC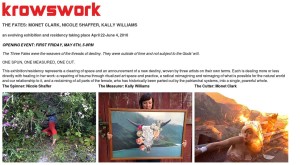 Announcing The Fates evolving exhibition and residency at Krowswork Gallery

, with Monet Clark, Kally Williams & Nicole Shaffer  4/22 to 6/3/16

From Krowswork: "This exhibition/residency represents a clearing of space and an announcement of a new destiny, woven by three artists on their own terms. Each is dealing more or less directly with healing in her work: a repairing of trauma through ritualized art space and practice, a radical reimagining and re-imaging of what is possible for the natural world and our relationship to it, and a reclaiming of all parts of the female, who has historically been parted out by the patriarchal systems, into a single, powerful whole."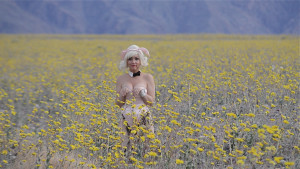 "Director DALE HOYT with his lead actress MONET CLARK, at the premier of FARM "
1/1/16. FARM is screening again this weekend 1/8th,9th, 10th at Krowswork Gallery in Oakland.
Screenings start every 45 minutes, starting at the opening of each day: FRI 4-8, SAT 1-4, and closing SUN 2-4. Also this Friday, as part of the Krowsworkerwork exhibition, there is a SPECIAL PERFORMANCE BY PALOMA MODUPE at 8 p.m. Be there or be square.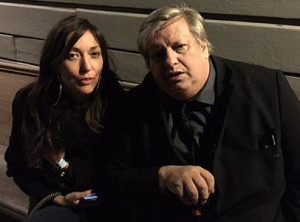 Premier! DALE HOYT's experimental narrative 3D film FARM (in which MONET CLARK plays the lead role with an all art-star cast) screens January 1st, 2016
3-7 pm at Krowswork Gallery, Oakland CA
"…the tragicomedy invokes gentrification as a symbol for a greater fatalistic existential crises that faces the world and every personal soul." –Krowswork Gallery

ORANGE SKIES Sculpture Show, House on the Hill, Los Angeles, Monet Clark will be performing CALIFORNIA COOL 5/31/14  6-11p.m.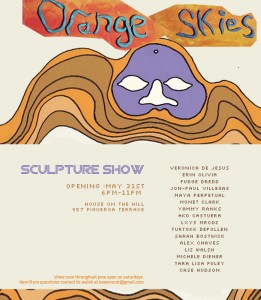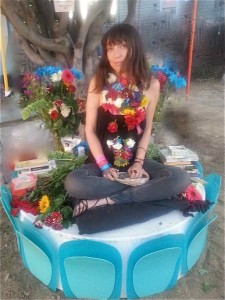 KCET ARTBOUND, 18th Street Arts Center Turns 25 (October, 2014)
Article highlights group show Monet Clark exhibited in curated by Richard Newton: "Important exhibitions in 18th Street's main gallery have included Richard Newton's "Have You Seen My Privacy?" in 2011, which anticipated the selfie-surveillance economy of social media and smart phones through performances and interventions in the exhibition space."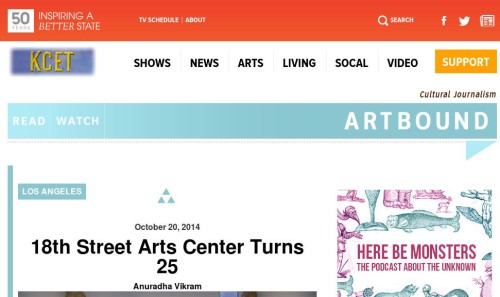 The New NOISE, France discusses Monet's collaborative work with CHROME as well as her video art
(tons more press on Clark's collaboration with CHROME under MUSIC)
CONSEQUENCE OF SOUND, USA Stream: Chrome's Feel It Like A Scientist, their first album in 12 years
"For Feel It Like A Scientist, Creed recruited a new lineup of musicians, including singer Anne Dromeda [aka Monet Clark], guitarist Keith Thompson, drmmer Aleph Omega, bassists Lux Vibratus and Steve "Trash" Fishman, and synthist Tommy Grenas. The collective spent the last two-plus years recording…in addition to the band writing all of the album's lyrics, Creed included several lines originally written by the late Edge…Chrome demonstrate that even after nearly 40 years and countless lineup changes, their hunger and curiosity remain just as savage as when the project first began."
To listen to the album click here: http://consequenceofsound.net/2014/07/stream-chromes-feel-it-like-a-scientist-their-first-album-in-12-years/
COLLABORATION with CHROME, 'FEEL IT LIKE A SCIENTIST' is released!
Monet Clark, acting under the name Anne Dromeda, has collaborated with legendary Avant-Punk band CHROME, on their highly praised 2014 comeback album. Contributing background vocals, lyrics & compositions, overseeing recording & mixing sessions & creating the cover artwork & photography, releasing the album on her King of Spades label.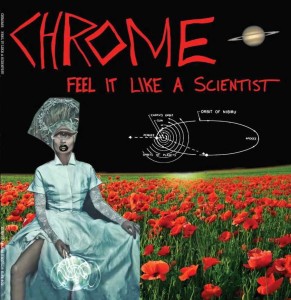 Krowswork, A Video and Photography Gallery Space/Project Space, in Oakland, CA
KROWSWORK is featuring Monet Clark at ARTPADSF 2013
"Monet Clark presents large-scale videos from her Look Book series. Set in austere, yet jewel-like environments, Clark embodies and employs the slick visual language of the fashion world to perform acts from the sacred to the mundane, creating moving video portraits iconographic of 21st-century California culture. The resultant pieces are sumptuously spare, raw and honest, wickedly humorous, and embody the actual ritual potential of the medium."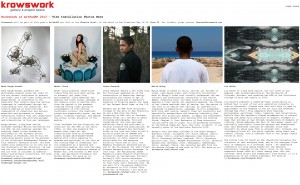 STRETCHER, ART FAIRS SF 2013
"One of Oakland's more experimental galleries, Krowswork, made strong use of their space combining projected video and physical media at different angles to create a single immersive experience.  Their presentation included…striking performance videos by Monet Clark."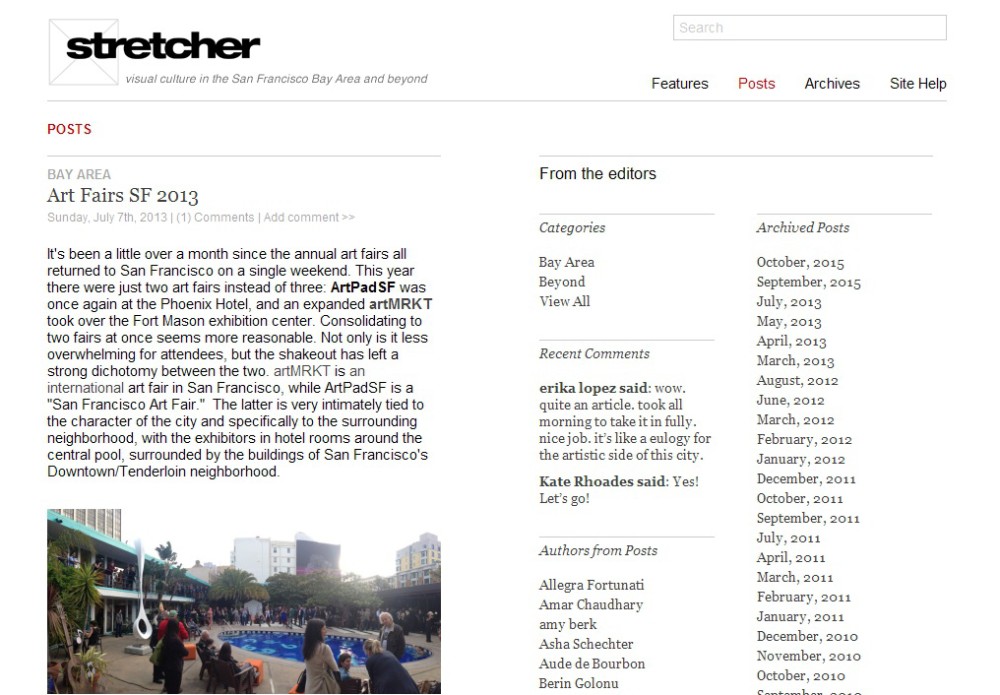 CATSYNTH, Cats, Synthesizers, Music, Art, Opinion
Artfairs 2013 SF

WHAT IS ART? LIVE! ArtPadSF 2013 INTERVIEW with MONET CLARK
MOSSHOUSE, The ART FAIR in REVIEW
"I found the curatorial presentation in Oakland based video and photography gallery, Krowswork particularly interesting…with work by Monet Clark…the room [was] really dynamic, and showed the exemplary work of the artists…"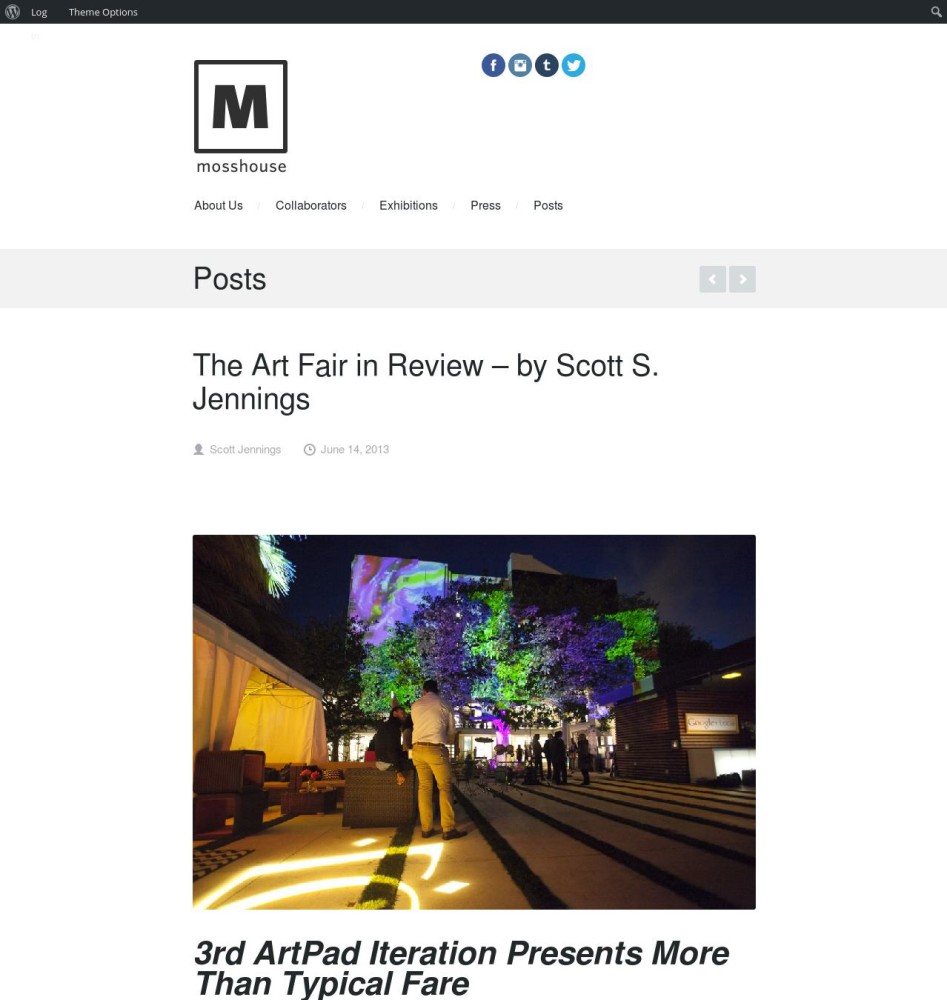 SFAQ, ARTPAD SF HIGHLIGHTS 
"Oakland..is making sparks fly with their video and photography program. Krowswork is one of the most experimental spaces in Oakland pushing the digital and photographic art forms…Krowswork really did a great job at their booth this year."

ABSOLUTEARTS.COM, KROWSWORK at ARTPADSF 2013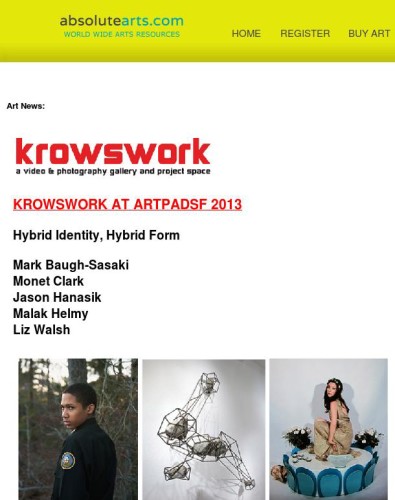 SEE YOU NEXT TUESDAY (CUNT) essay by Stephanie Ellis, MK GALLERY, PSU, PORTLAND, OR curated by JENNIFER LOCKE
"Monet Clark shows up in her smart video NUDE wearing 'nude' under ware. This double cross cover up is exactly the kind of expansive obscure that suits this crowd."

CHROME'S 2013 release 'HALF MACHINE FROM the SUN, the LOST TRACKS from '79-'80 features cover artwork by Monet Clark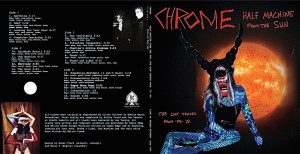 FREAK OUT, video screening SYNCHRONICITY Gallery, Los Angeles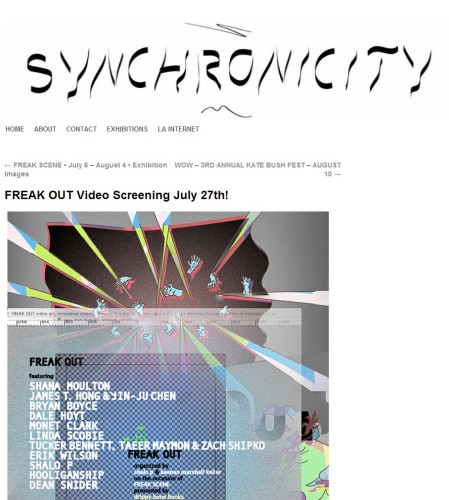 RADICAL LIGHT, THAT LITTLE RED DOT, CINEMATHEQUE, San Francisco
"Join us for an evening of the early works and rarities of some of the field's major artists"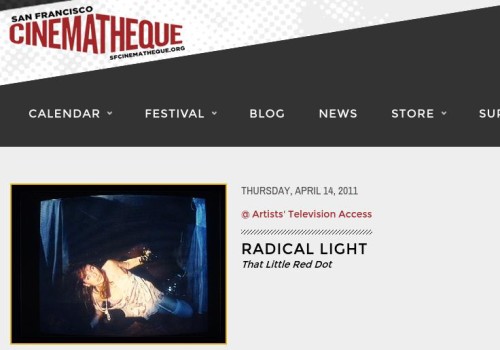 RAPID PULSE INTERNATIONAL PERFORMANCE ART FESTIVAL, CHICAGO 2012
HORSIES and HIPPIES! Monet Clark & Dale Hoyt, GALLERY HEIST, San Fransisco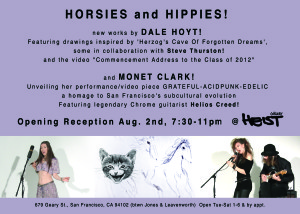 WHAT IS ART? LIVE! ARTPAD SF 2012 INTERVIEW with MONET CLARK
ARTBUSINESS covers GALLERY HEIST SHOW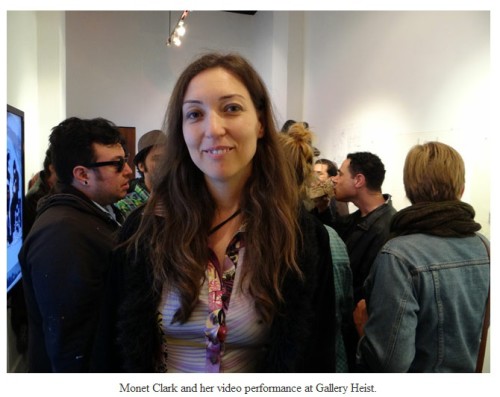 MONET CLARK'S historical photographic portraits of legendary CHROME guitarist/vocalist Helios Creed, from 1990 & 2012, are now featured on the HeliosChrome website…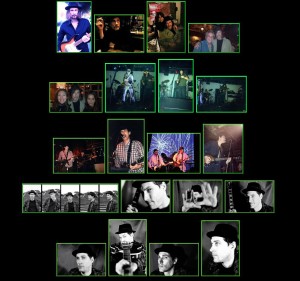 SOLO SHOW: MONET CLARK: CALIFORNIA GIRL A RETROSPECTIVE DEBUT, KROWSWORK GALLERY, Oakland, CA
"The most recent group of works, then, provides an aesthetic and energetic catharsis. Titled the "Look Book" series, these bold videos date from 2011…Set in austere, yet jewel-like environments, Clark embodies and employs the visual language of the fashion world to perform acts from the sacred to the mundane, creating moving video portraits iconographic of 21st-century California culture. The resultant pieces are sumptuously spare, raw and honest, wickedly humorous, and hold a powerful intimacy, all emanating from this one-of-a-kind California Girl." –Krowswork Gallery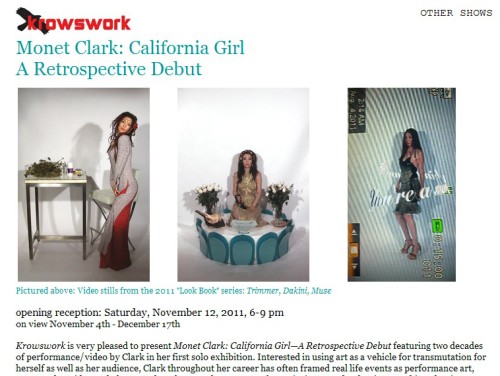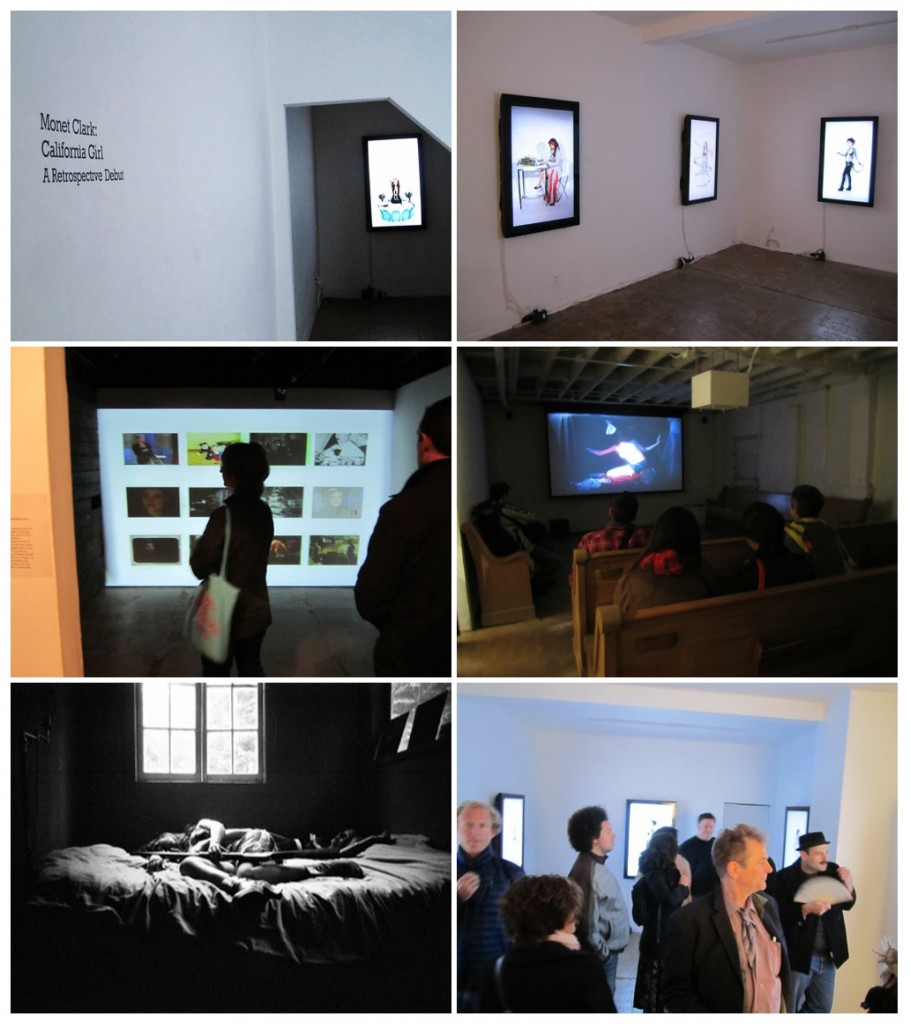 STRETCHER, MONET CLARK: CALIFORNIA GIRL at KROWSWORK
"…a remarkable show…Collectively they tell a meta-narrative but each piece is also a free standing chapter that expertly practices a narrative minimalism worthy of Linda Montano or Cindy Sherman….She plays with looking directly at the camera/viewer and yet not accusingly, as a lesser feminist artist might. It's more of a "better-not-tell" kind of look of collaboration.  -Stretcher 2011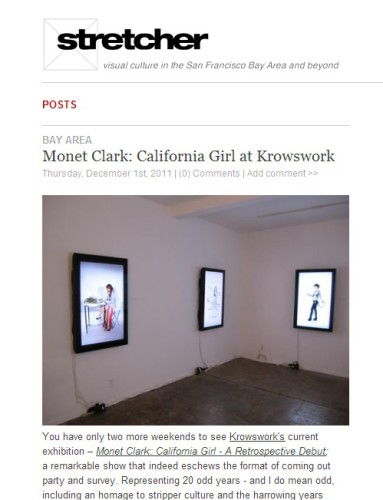 HYPERALLERGIC, THE FINE LINE BETWEEN SEXY and SICKNESS
"Tall & thin Clark easily embodies the current beauty ideal, which is part of what makes it so effective when she ruptures the continuity of the illusion which she has created…she indicts the viewer for objectifying her, but desire is a double edged sword as she is complicit in this objectification."–Hyperallergic 2011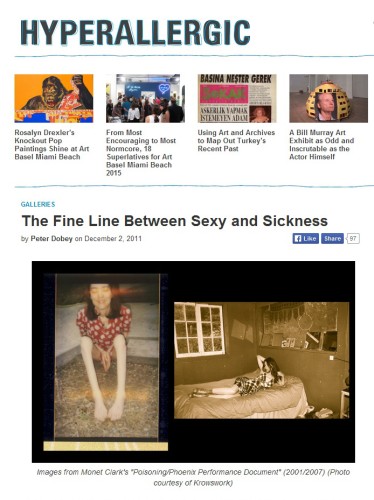 ART IN LIMBO, MONET CLARK at KROWSWORK
"She confronts the perception of differing women characters that are perceived in our contemporary world…accompanied with irony & mockery that provide a since of truth…" –Art in Limbo Blog 2011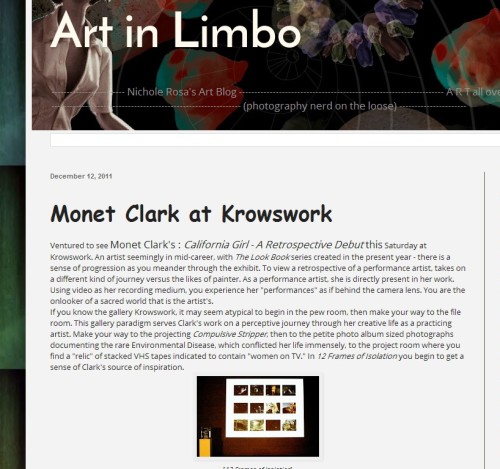 CINE SOURCE MAGAZINE, OAKLAND ANGLES AGAINST FILM and ART
"The Art Murmur is pointing the way with some seriously self-revealing video art, notably at the Krowswork Gallery…This month Monet Clark bares both her soul and her body, and some complex…issues… in half a dozen stunning highdef and large-displayed performance pieces."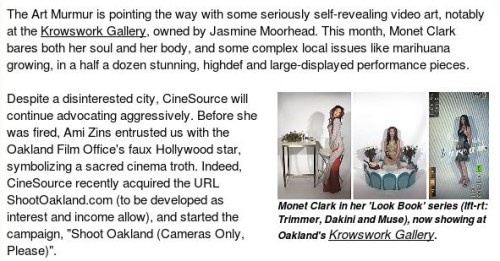 SQUARE CYLINDER Northern California ART and MUSEUM TOP PICKS for December 2011, MONET CLARK at KROWSWORK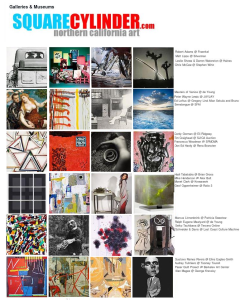 EAST BAY EXPRESS, PICKS, MONET CLARK, CALIFORNIA GIRL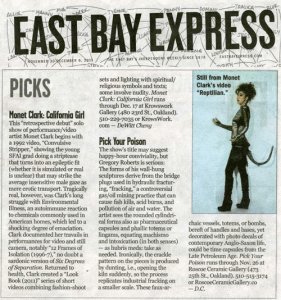 MAX ETERNITY, VIDEO ARCHETYPES OF A CALIFORNIA GIRL
"These works have the tension of being both very personal and also archetypal."

PIPPA'S CABINET blog, Brooklyn of the West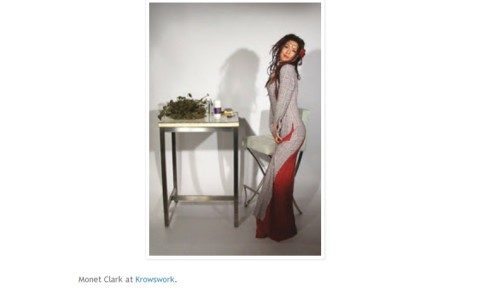 INDYBAY.ORG, EAST BAY WOMYN, MONET CLARK, CALIFORNIA GIRL a RETROSPECTIVE DEBUT
"The retrospective features two videos in which Clark, as both director and performer exposes herself in ways ostensibly meant to engage the (male) gaze. Yet in each of them there is a built-in revulsion, and the expectation of a purely sensual, one-sided show is soon thwarted."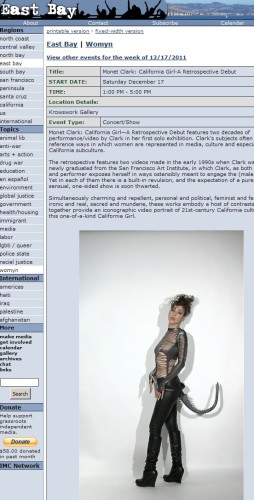 PLANET THRIVE, ART SHOW DETAILING ENVIRONMENTAL ILLNESS GETS GREAT PRESS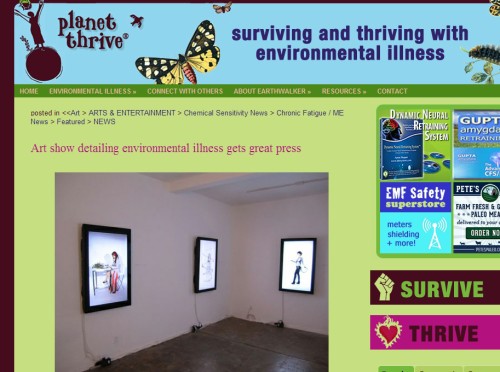 BUNNY WAX, DECEMBER ART MURMUR 2011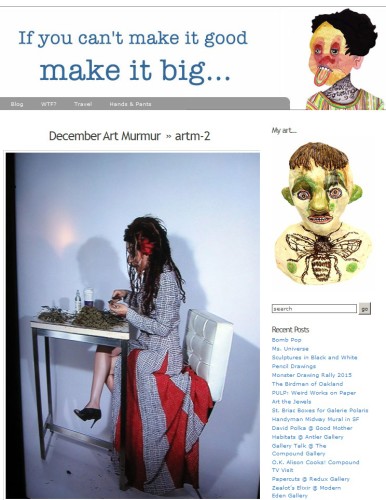 JULI WATSON, ARTIST EXPLORING ILLNESS/DISABILITY: MONET CLARK
"The subtitle of Clark's show California Girl (A Retrospective Debut) can be read as a symptom of the human condition. Our identities are made up of a retrospective lineage of past experiences, language and memories which our ever-changing physical body constantly debuts in the present moment."–Hyperallergic 2011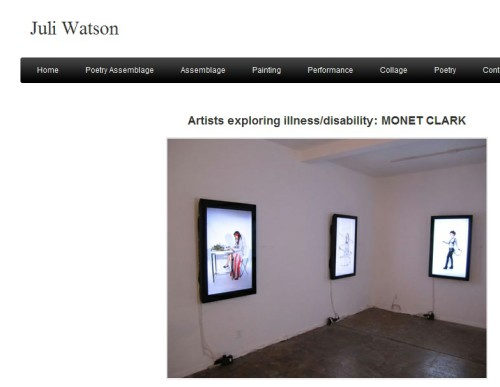 HAVE YOU SEEN MY PRIVACY, 18th STREET ART CENTER, Santa Monica, CA
Monet Clark's Butterfly's Shoe Fetish set on indefinite loop, will be exhibited as part of this group show curated by Richard Newton.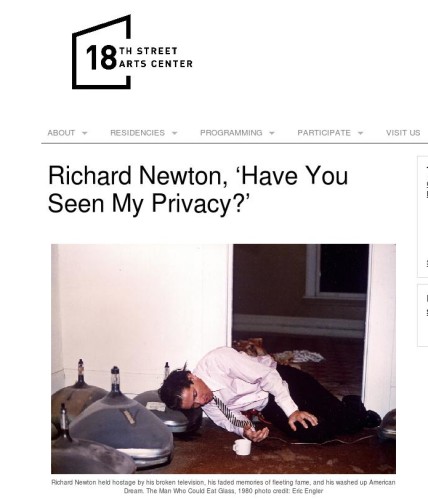 THE BEST OF WAXED LIPS: San Francisco Video & Performance Art, QUEENS NAILS GALLERY, San Francisco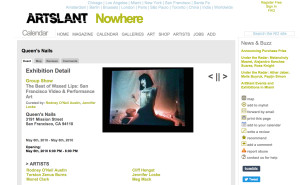 SFMOMA Now Playing
Screening for SFMOMA curated by Chris Johanson: "Johanson also curates a video program documenting San Francisco performance art…from the early 1990's to the early 2000's."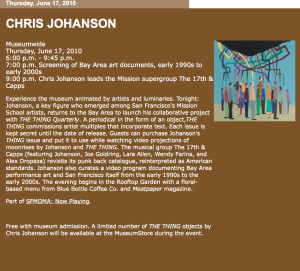 EXPOSURE, A Conference Exploring Vulnerability, Outerspace, Chicago, IL
Keynote presenter performance artist Julie Laffin features Monet Clark's work exploring Mulitple Chemical Sensitivity in her presentation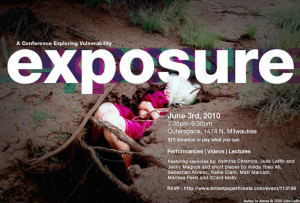 PLANET THRIVE 2010, LIFE AS ART, HEALING FROM CFS, FMS, MCS, PERFORMANCE ARTIST MONET CLARK'S INSPIRING STORY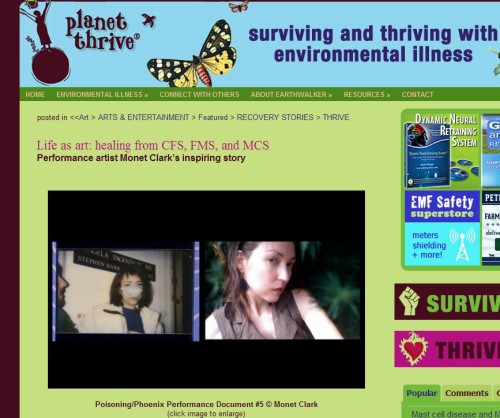 JUST SEEDS ARTIST CO-OPERATIVE, PRETTY REVOLUTIONARY
"Karen Fiorito of Buddha Cat Press is working with Monet Clark to produce a series of silkscreens about the role of women in the recent Iranian protests."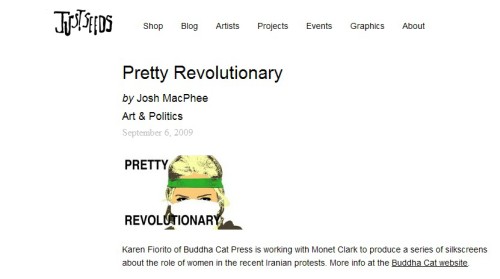 DEMOTIX The home of World-Leading Photojournalism IRAN ELECTION STREET ART IN LOS ANGELES
"This poster is pasted to an electrical box in Echo Park a neighborhood…[in] Los Angeles…The poster is part of a series of "Pretty Revolutionary" prints by…Karen Fiorito and Monet Clark."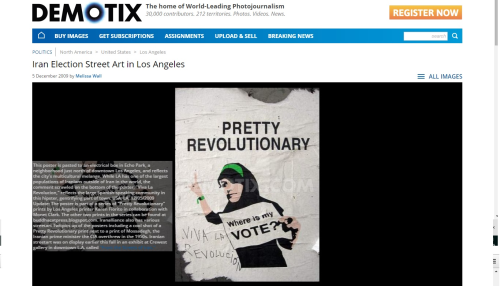 HUFFPOST ARTS and CULTURE 2015, Screening Printing Survey Spans the Streets to the Sublime
Piece on Buddha Cat Press, including one image of 'Pretty Revolutionary' collaboration by Monet Clark and Karen Fiorito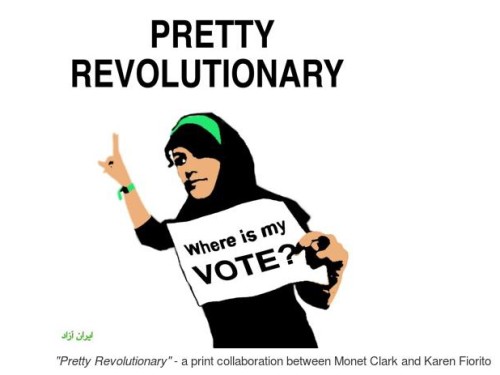 BUDDHA CAT PRESS, Monet Clark's Thanka Prayer Blessing Incantation Medicine Spells
Four images from Clarks drawings series have been masterfully printed in 11 color hand silk screens, by Karen Fiorito. To order: click contact.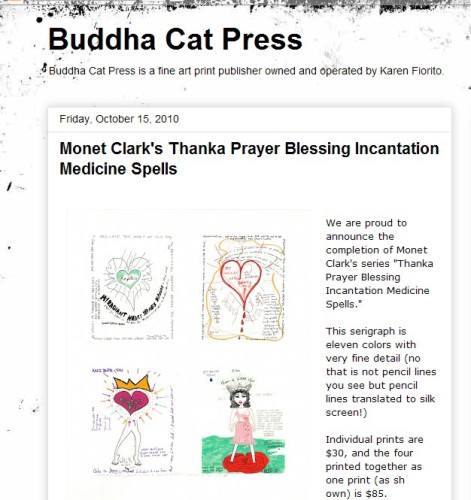 PUNK ROCK ART feat the Poisoning/Phoenix Performance Document series, benefit for George Tabb, at Safari Sam's Hollywood, CA