Click images to read full articles
HYPERALLERGIC, A PLAYBOY BUNNY NAVIGATES THE POLITICS OF DYSTOPIA
After this article was published I posted this comment on the site in response to the writer's main argument, which hinged on an incorrect assumption about my race.  Nevertheless the piece offers interesting points. 
"As the artist who made BUNNY GIRL & as a women who is mixed race & comes from a long line of not white & mixed race women, I wish the writer of this piece had done her research on me, before calling me out in regards to "white feminism". Having tried to make sense of the traumas to myself and to my family lineage due to racism, through education in the liberal PC environment of Bay Area academia starting 30 yrs ago where I focused on Women's Studies, I know the arguments presented in this piece all too well and my family has lived them. Thusly I am deeply offended by the main argument in this article. I thank Hyperallergic & the writer for seeing my piece fit for publishing a piece on, I am very grateful. However I just wish that if the writer wanted to make a piece on "white feminism" she would have used my unique vantage point as a mixed raced feminist in the argument instead of assuming I'm white, because I'm white passing. The pitfalls of our current super hyper PC culture is this tendency to cast stones at our own, eating them up till I'm concerned there will be nothing left. The irony is that my video comments on the deteriorating state of our shared biosphere and how the feminine is needed to rise in order to save us all, black, white, red, brown, yellow, fur covered and green (plants). We are all in this together."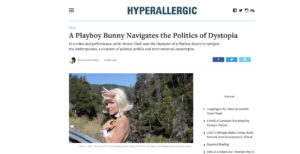 Out now, "Dangerous Dakini: Monet Clark's Bunny Girl and Other Precarious Performance Videos" AFTERIMAGE magazine vol. 44 #4 (February 2017) CLICK IMAGES TO READ
Written by Jillian St. Jacques who went deep, conducting several interviews & viewings.
"There is something heroic about Bunny Girl [and] …something that reminds me of the lady in the radiator in David Lynch's Eraserhead."
"…there is more to Bunny Girl's story than a surreal character in an arbitrary landscape… [with] the flanking element of danger implicit in every frame…namely, her relationship to the dystopic events in the found footage… The more I look at Bunny Girl the more I am struck by the character's resilience. She may look vulnerable…but I realize Bunny Girl is stronger than me…"
 "As I have argued, an aesthetic of risk runs high throughout Clark's oeuvre….In the performance/video DAKINI (2011)…her ritualistic gestures place her in a place of vulnerability once more….because she is dealing in spirituality, that most conflicted of stances, regarded with skepticism in artistic and intellectual circles…"
"…Clark's healing rituals stand in a class of their own…"
"[Cross Voyeusim is] a feminist counterattack."
"…some of her most riveting early works…Poisoning/Phoenix features the artist as our gentle guide into the world of the abject discourse."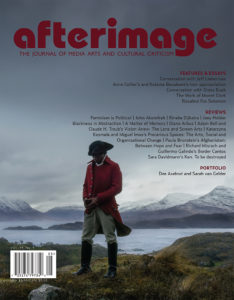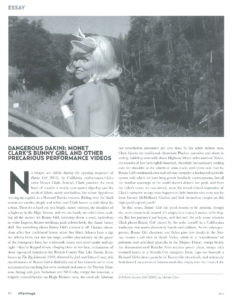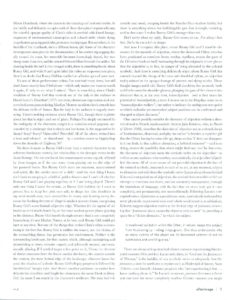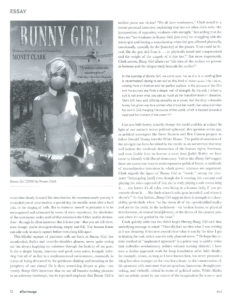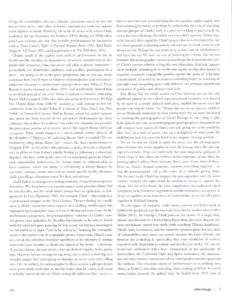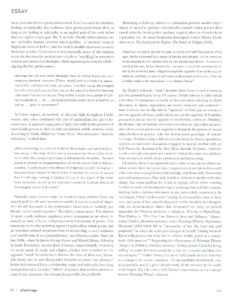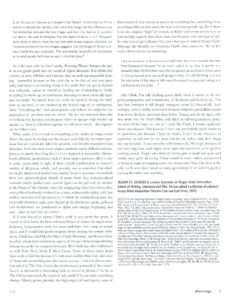 ARTISTS & CLIMATE CHANGE, PERFORMANCE, VIDEO & RITUAL IN THE ERA OF CLIMATE CHANGE, guest blogger Monet Clark with news about new works in process and more. "…our hope for the future lies within the rising of the feminine."
STRETCHER MAGAZINE, Feature: Conversations: A BUNNY THING HAPPENED – A Conversation With Monet Clark –By Dale Hoyt
"A minor comedic masterpiece as well as a revival of the video art landscape genre of Mary Lucier, Doug Hall and Nan Hoover, Bunny Girl is a rock solid performative piece, with Clark in the titular role, that sets out to interlace dialogs of feminist issues and environmental activism."
V. VALE's RE/SEARCH NEWSLETTER #150, MAY 2016 WIRED Magazine and researchpubs.com FORTHCOMING EVENTS,
Free Fri May 6th, 5-9pm Krowswork, 480 23rd St (Side Door), Oakland 94612 hosts THE FATES: Nicole Shaffer, Kally Williams, Monet Clark. krowswork.com/thefates.html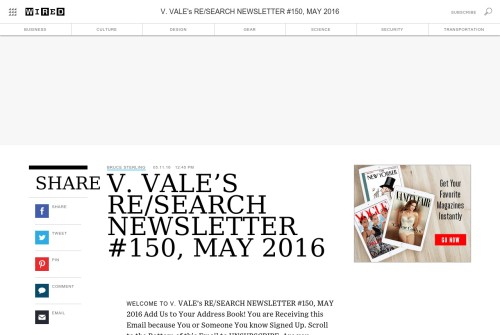 French magazine, The New NOISE
(extensive press on Clark's collaboration with CHROME under MUSIC)

CONSEQUENCE OF SOUND, USA
Stream: Chrome's Feel It Like A Scientist, their first album in 12 years
(extensive press on Clark's collaboration with CHROME under MUSIC)

"For Feel It Like A Scientist, Creed recruited a new lineup of musicians, including singer Anne Dromeda [aka Monet Clark], guitarist Keith Thompson, drmmer Aleph Omega, bassists Lux Vibratus and Steve "Trash" Fishman, and synthist Tommy Grenas. The collective spent the last two-plus years recording…in addition to the band writing all of the album's lyrics, Creed included several lines originally written by the late Edge…Chrome demonstrate that even after nearly 40 years and countless lineup changes, their hunger and curiosity remain just as savage as when the project first began."
To listen to the album click here: http://consequenceofsound.net/2014/07/stream-chromes-feel-it-like-a-scientist-their-first-album-in-12-years/
The Quietus, UK
(extensive press on Clark's collaboration with CHROME under MUSIC)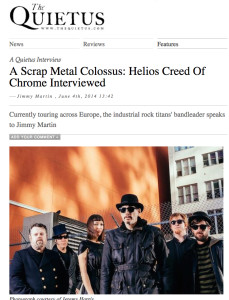 Uncut Magazine, UK
(extensive press on Clark's collaboration with CHROME under MUSIC)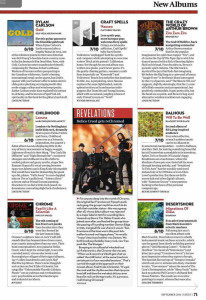 STRETCHER, ART FAIRS SF
"One of Oakland's more experimental galleries, Krowswork, made strong use of their space combining projected video and physical media at different angles to create a single immersive experience. Their presentation included… striking performance videos by Monet Clark."
MOSSHOUSE, The ART FAIR in REVIEW
"I found the curatorial presentation in Oakland based video and photography gallery, Krowswork particularly interesting…with work by Monet Clark…the room [was] really dynamic, and showed the exemplary work of the artists…"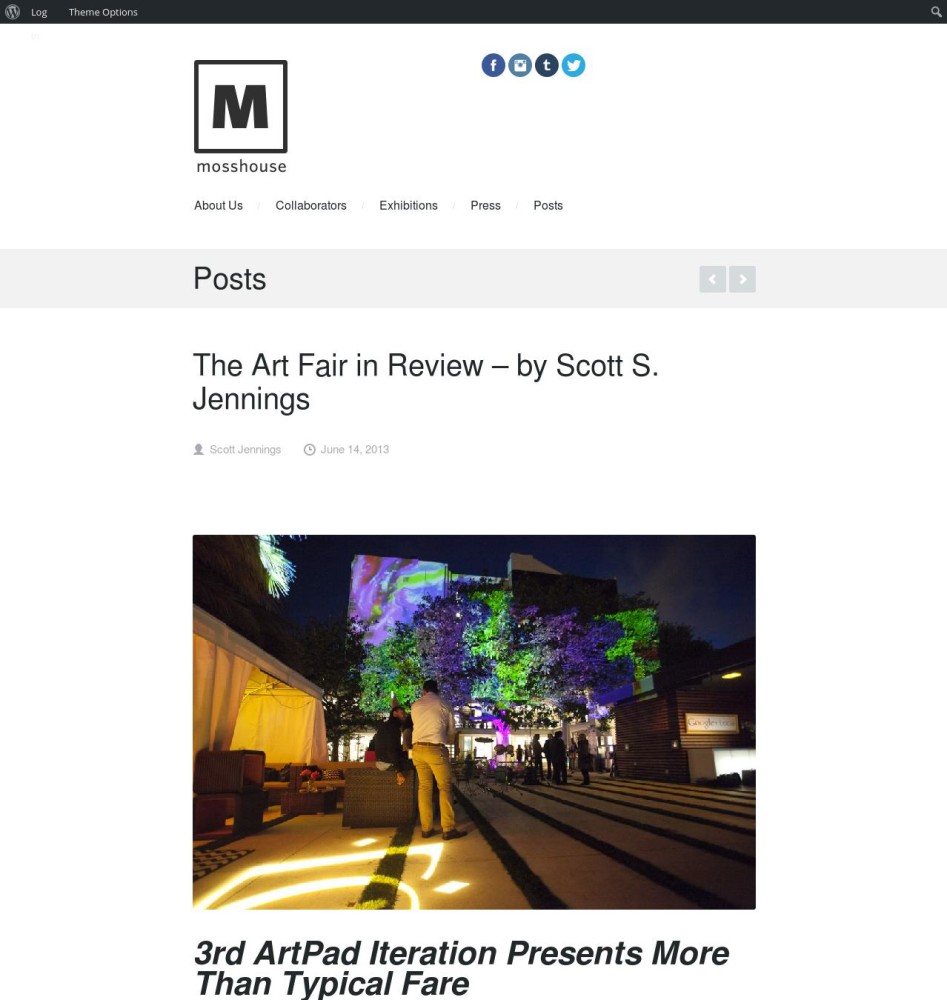 SFAQ, ARTPAD SF HIGHLIGHTS 
"Oakland..is making sparks fly with their video and photography program. Krowswork is one of the most experimental spaces in Oakland pushing the digital and photographic art forms…Krowswork really did a great job at their booth this year."

CATSYNTH, Cats, Synthesizers, Music, Art, Opinion
Artfairs SF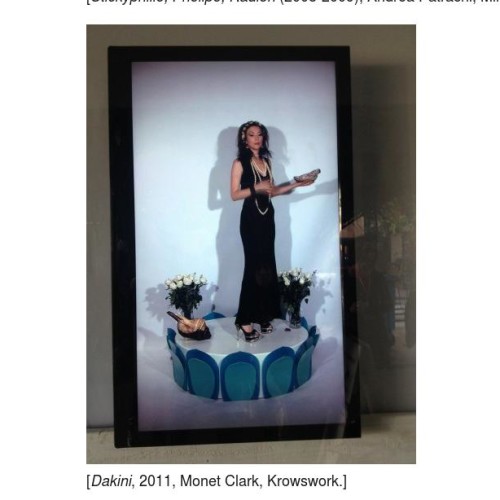 WHAT IS ART? LIVE! ArtPadSF 2013 INTERVIEW with MONET CLARK
ARTBUSINESS covers GALLERY HEIST SHOW, San Francisco, CA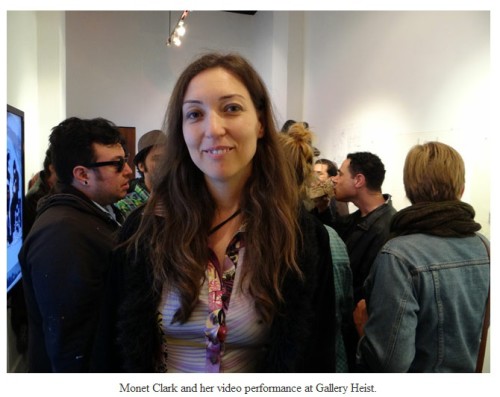 WHAT IS ART? LIVE! ARTPAD SF 2012 INTERVIEW with MONET CLARK
STRETCHER, MONET CLARK: CALIFORNIA GIRL at KROWSWORK
"…a remarkable show…Collectively they tell a meta-narrative but each piece is also a free standing chapter that expertly practices a narrative minimalism worthy of Linda Montano or Cindy Sherman….She plays with looking directly at the camera/viewer and yet not accusingly, as a lesser feminist artist might. It's more of a "better-not-tell" kind of look of collaboration.  -Stretcher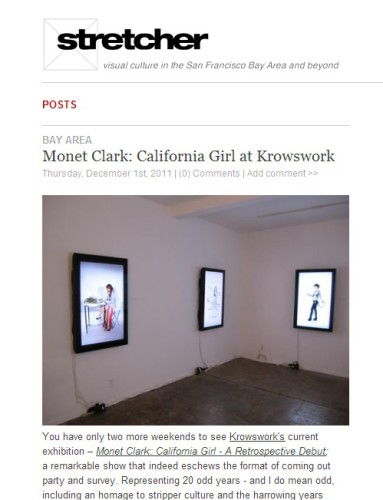 HYPERALLERGIC, THE FINE LINE BETWEEN SEXY and SICKNESS
"Tall & thin Clark easily embodies the current beauty ideal, which is part of what makes it so effective when she ruptures the continuity of the illusion which she has created…she indicts the viewer for objectifying her, but desire is a double edged sword as she is complicit in this objectification."–Hyperallergic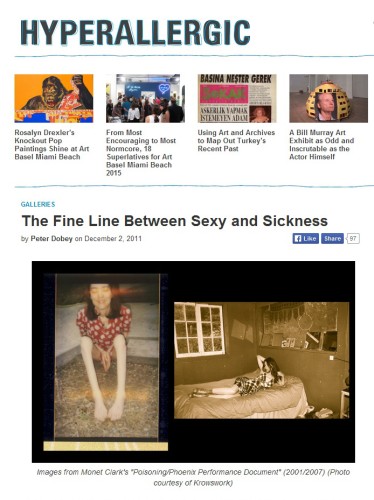 ART IN LIMBO, MONET CLARK at KROWSORK
"She confronts the perception of differing women characters that are perceived in our contemporary world…accompanied with irony & mockery that provide a since of truth…" –Art in Limbo Blog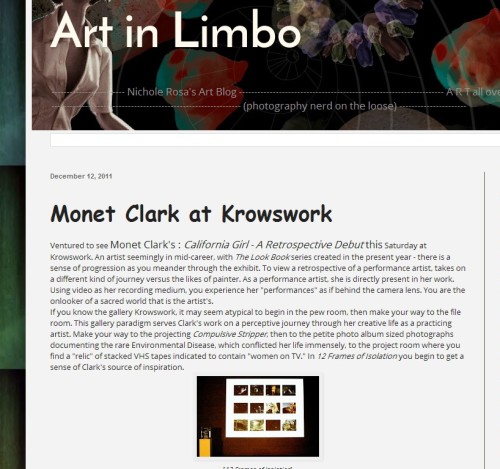 MAX ETERNITY, VIDEO ARCHETYPES OF A CALIFORNIA GIRL
"These works have the tension of being both very personal and also archetypal."

CINE SOURCE MAGAZINE, OAKLAND ANGLES AGAINST FILM and ART
"The Art Murmur is pointing the way with some seriously self-revealing video art, notably at the Krowswork Gallery…This month Monet Clark bares both her soul and her body, and some complex…issues… in half a dozen stunning highdef and large-displayed performance pieces."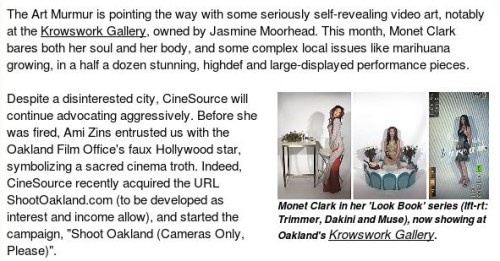 SQUARE CYLINDER Northern California ART and MUSEUM TOP PICKS for December 2011, MONET CLARK at KROWSWORK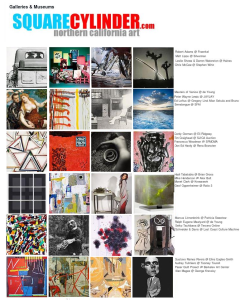 EAST BAY EXPRESS, PICKS, MONET CLARK, CALIFORNIA GIRL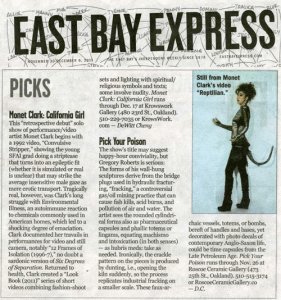 PIPPA'S CABINET blog, Brooklyn of the West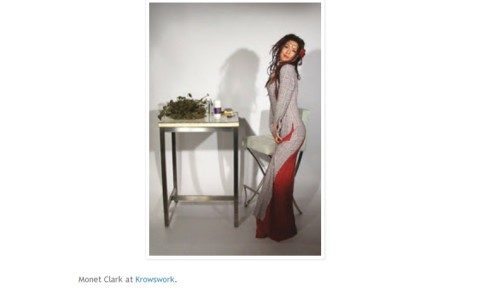 INDYBAY.ORG, EAST BAY WOMYN, MONET CLARK, CALIFORNIA GIRL a RETROSPECTIVE DEBUT
"The retrospective features two videos in which Clark, as both director and performer exposes herself in ways ostensibly meant to engage the (male) gaze. Yet in each of them there is a built-in revulsion, and the expectation of a purely sensual, one-sided show is soon thwarted."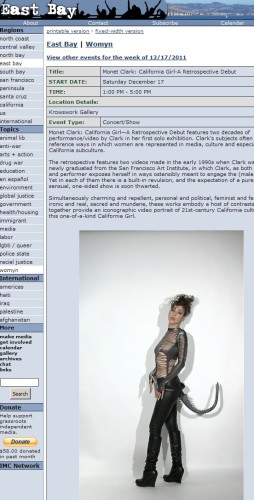 PLANET THRIVE, ART SHOW DETAILING ENVIRONMENTAL ILLNESS GETS GREAT PRESS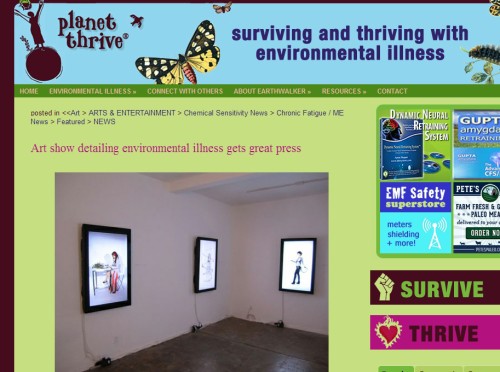 BUNNY WAX, DECEMBER ART MURMUR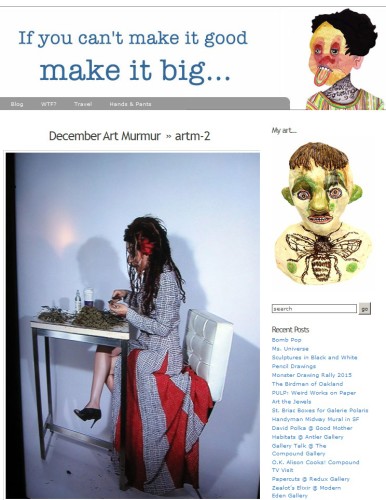 JULI WATSON, ARTIST EXPLORING ILLNESS/DISABILITY: MONET CLARK
"The subtitle of Clark's show California Girl (A Retrospective Debut) can be read as a symptom of the human condition. Our identities are made up of a retrospective lineage of past experiences, language and memories which our ever-changing physical body constantly debuts in the present moment."–Hyperallergic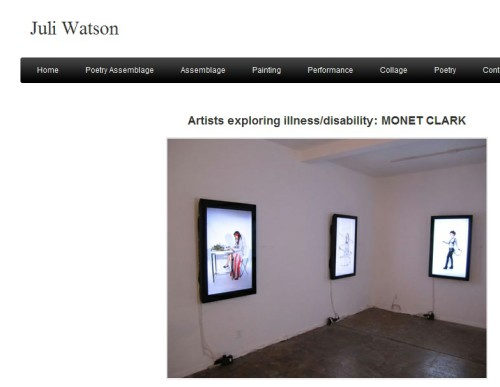 PLANET THRIVE 2010, LIFE AS ART, HEALING FROM CFS, FMS, MCS,
PERFORMANCE ARTIST MONET CLARK'S INSPIRING STORY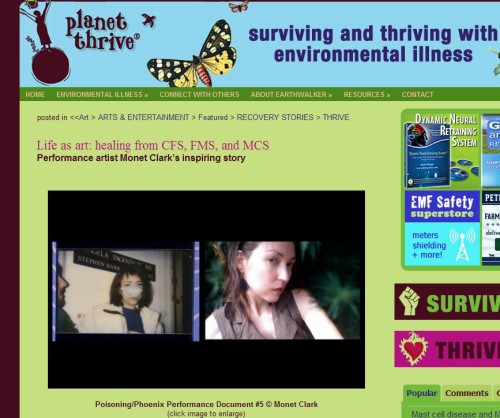 JUST SEEDS ARTIST CO-OPERATIVE, PRETTY REVOLUTIONARY
"Karen Fiorito of Buddha Cat Press is working with Monet Clark to produce a series of silkscreens about the role of women in the recent Iranian protests."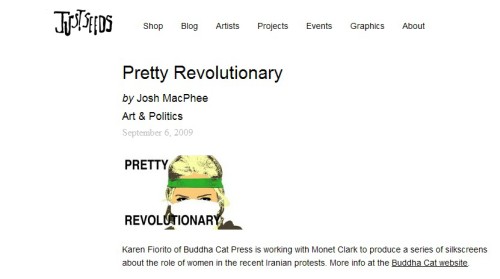 DEMOTIX The home of World-Leading Photojournalism,
IRAN ELECTION STREET ART IN LOS ANGELES
"This poster is pasted to an electrical box in Echo Park a neighborhood…[in] Los Angeles…The poster is part of a series of "Pretty Revolutionary" prints by…Karen Fiorito and Monet Clark."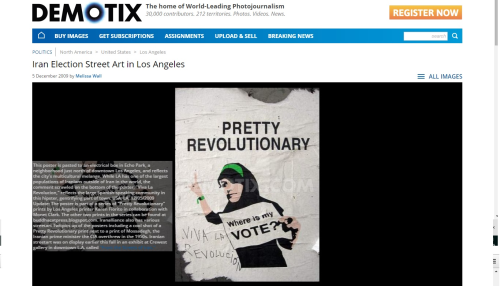 HUFFPOST ARTS and CULTURE 2015, Screening Printing Survey Spans the Streets to the Sublime,
Write up on Buddha Cat Press, includs 'Pretty Revolutionary' the collaboration by Karen Fiorito and Monet Clark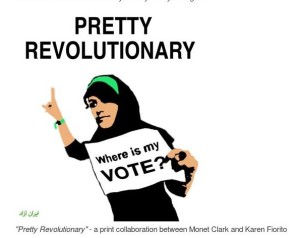 COAGULA ART JOURNAL
Screening Printing Survey Spans the Streets to the Sublime